After the huge success with the Summer'94 Megamix we decided to challenge ourselves and create another megamix.
This one was to be based on the most popular tracks that were being played at KO'Z Club, where Master Marino was working as a DJ. Basic concept, extremely hard task… because the megamix would contain all kinds of genres ranging from dance and house to hard rock, merengue and even bachata!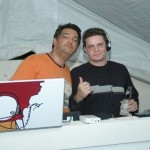 For this one we also had the "occasional" participation from DJ Fat Tony, who was also working as a DJ at KO'Z Club. You may probably know him for his 90's smash hit: Don Chezina – Tra Tra Tra [DJ Fat Tony's TRA Remix].
Just like with Summer'94, the tracks were beat-matched (by hand) by Master Marino using a Dennon dual CD player and the mix was created using SoundForge on a 180MB disk that was barely able to hold the mix and all the source material.
It was an excruciating task but I guess it was well worth it. At the time it gained a lot attention by the general public and still today it is considered by many an important work that inspired many Dominican DJs and producers to move to the digital mixing scene.
There's a portion of the mix that didn't make it to final edit due to "personal issues" between Master Marino and Fat Tony and I wish I still had it since I'd love to include it and re-release the megamix. The missing part is Fat Tony rapping over a solid house beat, with lyrics written by himself. It sounded amazing but Master Marino refused to include it…
In any case, the end result, although it may sound a bit weird by today remixes standards and tastes, was a huge success and I still feel is one of my proudest productions.
DJ Master Marino & The Wall Breaker – KO'Z Mix [Remastered Version]
Format: 44.1KHz@16bit Stereo
Length: 16″39′ / 19.20MB
Includes:
Los Del Rio – Macarena
Vico C – Maria
Nirvana – Smells Like Teen Spirit
Outhere Brothers – Don't Stop
David Morales – In Da Ghetto
Sugar Ray – Abracadabra
Nevada – Take Me To Heaven [Club Edit]
The Movement – Jump! (Headstrong Mix)
Amistades Peligrosas – Me Haces Tanto Bien
Ini Kamoze – Here Comes the Hotstepper
K7 – Move It Like This [Alternate Mix]
20 Fingers – Short Dick Man
Juan Luis Guerra – La Ciguatera
Vico C – Maria
Alex Butcher – Sweet Dreams
Fun Factory – Close To You
Chaka Boom Bang – Tossin' and Turnin'
Real McCoy – Runaway
Ice MC – It's A Rainy Day
Antony Santos – Que Viva El Diskjokey
Antony Santos – Me Duele La Barriguita
Fun Factory – Take Your Chance
Jose Cheena – Fly Tetas
Max-A-Million – Fat Boy
Download: DJ Master Marino & The Wall Breaker - KO'Z Mix [Remastered Version] [19.06 MB]