The Extasis Megamixes are a series of megamixes that were created for Extasis 89.5, a radio station that existed in the Dominican Republic around the late 90's. The megamixes are compilations of some of the greatest latin rock songs from that era.
The songs included in each megamix were picked by Tony Rodríguez, one of the most influential and knowledgeable DJs in the country and were then remixed by me using both Sound Forge and Acid.
Remixing latin pop rock was incredibly hard due to the differences in keys, BPMs and the erratic tempo throughout the tracks. Some of the tracks had to be broken down into 4-beat samples, using Sound Forge, so that Acid could correctly beat-match them. It was a real challenge… but fun!
So, here are the 6 megamixes that were created, each one with its own "remixing" style.
Below the logo for each volume you will find a player to pre-listen to the megamix and at the bottom a link to download it — remember to right click the download link and select "Save Link" or "Save Target" from the context menu.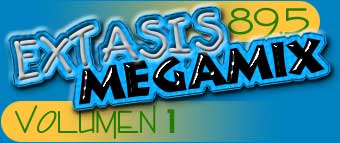 Extasis Megamix Volumen 1

Format: 44.1KHz@16bit Stereo
Length: 6″12′ / 5.68MB
I honestly still don't know how I pulled this one off!
When Tony approached me with this project I quickly agreed to it without actually knowing what i was getting into. The first time I heard the tracks that were to be included in this remix I freaked out and almost called the whole thing off.
For example, Corazón Partio is about 80 BPMs while Amores Escondidos is 130 BPMs… how the hell was I supposed to mix those tracks!?!?

Well, after much fiddling, I was able to come up with a rather simple solution: use a base (beat + bass) for the whole megamix and try to over dub the portions of the tracks that better fit its the tempo.
The solution was extremely simple while the end result was so effective that still today some people still prefer how the tracks sound on the megamix versus how they originally sound.

I've always thought that this megamix was my graduation as a semi-professional remixer 😉

For this particular megamix I specially like what happens after the 3:22 mark — pay special attention at how the tracks are mixed. For example, at 3:39 there are 3 different tracks overplayed and perfectly synced and in key. Not bad for a 90's remix….
Includes:
Alejandro Sanz – Corazón Partio
Carlos Vives – Amores Escondidos
Aterciopelados – Expreso Amazonia
Mana – Tu Tienes lo que Quiero
Mecano – El Club de los Humildes
La Ley – Vi
Soda Estereo – De Música Ligera
Ricky Martin – La Copa de la Vida
Fobia – El Microbito
Download: Extasis Megamix Volumen 1 [5.68 MB]
Extasis Megamix Volumen 2

Format: 44.1KHz@16bit Stereo
Length: 6″00′ / 5.49MB
Volume 1 was a huge hit and it was played on all major clubs and bars of the city — it was a true confidence booster.
Unfortunately, for Volume 2 I tried to do too much with the mixes and the whole production ended too way over the top: too many things happening all over the megamix without ever producing anything substantial or exiting.

The only portion that I enjoy from this megamix is how Yo No Soy Gringo sounds — the rest is quite annoying.
Also, the end result (due to major problems with its masterization) is quite unpleasant.
From 5:09 to 5:39 is one the most complex mixes I've ever done but, unfortunately, the end result is just too noisy and overdone.
Includes:
Jarabe de Palo – Grita
Amistades Peligrosas – Nada Que Perder
Fulano de Tal – Yo No Soy Gringo
Ricky Martin – La Bomba
La Ley – Fotofobia
Enanitos Verdes – Carmencita
Danza Invisible – Por Ahí Se Va
Download: Extasis Megamix Volumen 2 [5.5 MB]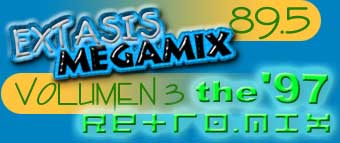 Extasis Megamix Volumen 3 [The '97 retro Mix]

Format: 44.1KHz@16bit Stereo
Length: 6″50′ / 6.26MB
I think I learned a lot while working on the previous tow megamixes as I understood what people liked from Volume 1 and what we all disliked from Volume 2.
Based on that I decided to keep Volume 3 as simple as possible and tried to accentuate the most enjoyable parts of the tracks being mixed without overdoing any of the mixes.

The end result is a very nicely done megamix, one of my favorites, with some amazing smooth transition between tracks.

I enjoyed it so much that the end result was a quite long production (almost 7 minutes long) so I created an additional radio edit in case the radio station managers thought the original megamix was too long. As far as I know, the "radio edit" version was never played.
http://reverb.xfx.net/mp3/xfx/Xavier%20Flix%20-%20Extasis%20Megamix%20Vol3%20%5BThe%20%2797%20RetroMix%5D%20(Radio%20Edit).mp3

Also, for this Volume I created a no-promo version where the radio station promo is muted. I did it because of the numerous request from several local DJs as they didn't want to promote the station on their clubs… unfortunately, most of the mixes progressions were based on the Extasis FM promo so when muted, the transitions didn't sound as smooth as in the original megamix.
http://reverb.xfx.net/mp3/xfx/Xavier%20Flix%20-%20Extasis%20Megamix%20Vol3%20%5BThe%20%2797%20RetroMix%5D%20(No%20Promo).mp3

By the time I was working on this megamix, Cher had released her megahit Believe featuring the (in)famous AutoTune effect. At that time very few people knew how to reproduce the effect, including myself, but I did try…
If you listen to how the vocals are mixed from 3:35 where Rico is mixed you will hear something very similar to that effect. That was accomplished by "manually" changing the key, for very small samples, of the track.
Includes:
MDO – No Puedo Olvidarte
La Ley – El Duelo
El Simbolo – No Te Preocupes
The Sacados – Pensando En Esa Chica
Barrio Boys – Rico
Aterciopelados – Baracunata
Mestizo – El Tongoneo
Download: Extasis Megamix Volumen 3 [6.27 MB]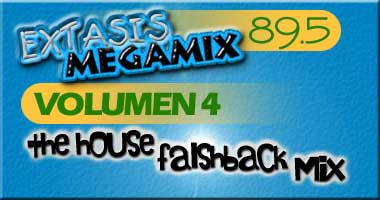 Extasis Megamix Volumen 4 [The House Flash Back Mix]

Format: 44.1KHz@16bit Stereo
Length: 6″11′ / 8.00MB
Lots of effects but clean, simple and at the same time extremely complex is makes this one of my favorite megamixes.
At this point I was quite confident of what was needed to create a good latin rock megamix so I decided to take the chance "mix" my love for old school house music with the tracks that were required for the production and the end result is an interesting mix (excuse the pun) of rock and house music.

All the back-beats used in the megamix are from very popular tracks by either 2 In A Room, Two Without Hats or Real To Real.
Pay especial attention at 3:50 as Algo Natural is mixed. This track is hideous but the way it is mixed, using Maurice – This Is Acid synths and Todd Terry – Bango beats totally transforms it!
Includes:
Maná – Se Me Olvido Otra Vez
Shakira – Ojos Así
Ekhymosis – El Mensaje en la Botella
MDO – Dame Un Poco Mas (Grove With Me Tonight)
Alejandra Guzman – Algo Natural
Carlos Vives – Fruta Fresca
Download: Extasis Megamix Volumen 4 [8.08 MB]

Extasis Megamix Volumen 5

Format: 44.1KHz@16bit Stereo
Length: 8″54′ / 10.00MB
Christina Aguilera, Merengue, Salsa, House Music, manually created beats and extreme effects. That's what makes this megamix so memorable and special.

After hearing the spanish version of Genie in A Bottle I decided that I wanted to transform that track into a merengue so I used the tambora percussion from Willie Colón – Amor verdadero and the end result is one of my favorite mashup's ever!
Includes:
Cafe Quijano – La Lola
Christina Aguilera – Genio Atrapado
Soraya – Cuerpo Y Alma
Jennifer Lopez – Una Noche Mas
Emmanuel – Corazon de Melao
Joe Vasconcellos – Huellas
Alex Syntek – Tu Necesitas
Illya Kuryaki & Valderramas – Latin
Download: Extasis Megamix Volumen 5 [10.19 MB]

Extasis Megamix Volumen 6

Format: 44.1KHz@16bit Stereo
Length: 7″28′ / 8.55MB
By far, this is my favorite megamix. Everything I wanted to do I did and the end result is exactly what I expected.
I don't really like any of the tracks in the megamix but the end result was exactly what I had in mind so I just love it.

In this volume I decided to do something extra… a video.
I never managed to finish it, mostly due to lack of motivation but I think it is worth presenting it here. Some portions of the video appear black and that's because I didn't have the original video for the track being played.

Includes:
Manu Chao – Me Gustas Tu
El Gran Silencio – El Chuntaro Style
Los Rabanes – My Commanding Wife
Shakira – Suerte
La Mosca – Te Quiero Comer La Boca
Christina Aguilera/Pink/Lil Kim/Mya – Lady Marmalade
Juanes – Podemos Hacernos Daño
Download: Extasis Megamix Volumen 6 [8.56 MB]