This megamix is one of the reasons I wanted to start a blog about my mixing adventures.
I'm originally from Barcelona, Spain, but at the age of 12 I moved (for reasons that do not belong to this post) to the Dominican Republic.
After moving, I found out that there wasn't much to do… and most of the time I was bored to death. One day I discovered, on the living-room's coffee table, a weird looking cassette (not many Europeans know about 8tracks) which I inserted into a similarly odd-looking stereo.
The cassette was from a well known merengue band (I don't recall which one right now) and I was immediately hooked. Both the rhythm and funny lyrics (those that I could understand) really made an impression on me.
From that point on, I was hooked on merengue.
Fast forward a couple of decades and everyone that lived the 80's merengue era will tell you that those years will never come back. Those were the golden years; actually, that's what the Dominicans call the 80's: "La época dorada del merengue".
One day, around 1996 I had the idea of creating the first megamix out of merengues from the 80's era.
I knew it would be a huge task due to the way merengues were recorded at that time: a band playing without any respect to tempo or key. Merengues from the 80's vary on both terms as the band "feels the moment". I guess that's why they are so special and touch you so deeply.
So, one day I launched my copy of Acid and started playing around with some basic ideas. Mainly, the idea was to overlay some of the most well known arrangements over heavy and well defined beats so that the megamix could be played at any time on any party or club.
Sometimes I laugh at myself at how naive I am.
After trying out about 10 different popular merengues I quickly found out that there wasn't a single one that could keep the tempo for more than 16 beats. The differences in tempo were so significant that Acid simply failed to keep the tracks in-sync.
Unfortunately, not even today, almost 20 years later, Acid doesn't support variable tempo beat-matching. That is, the ability to specify smooth tempo changes over a single recording.
The solution? To break the songs into small portions and to "manually" beat-match them to the background beat. A truly PIA task!
Here's, for example, one of the samples in the megamix:


Notice how the sample contains various sections. Each section is a cut in the original sample which allows, within Acid, to readjust the position of the subsequent section's start time thus producing a near-perfect beat-matched version of the sample.
Although it sounds a bit weird, it actually allows the song to be in-sync with a background beat. This is how the whole thing sounds: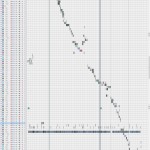 Now imagine doing the same thing for 19 tracks and over a dozen over-dubs!
I guess that's why it took me over 4 years to complete. Of course, I only worked on this megamix when I felt like it.
The end result is an Acid project with 104 channels, including beats, tracks, samples and effects for a 12 minutes megamix!
I must admit that I've never played it on a live set… but several local DJs have and the response from the crowd has always been extremely positive.
So, without further ado, here's the megamix — I hope you enjoy it!
Format: 44.1KHz@16bit Stereo
Length: 12″16′ / 16.90MB
Includes:
Wilfrido Vargas – El Jardinero
Bonny Cepeda – Asesina
Alex Bueno – Quien Te Riza El Pelo
Jerry Vargas – Tus Ojos Mexicanos
El Zafiro – No Se Que Hacer
El Varon – Platano Maduro
Bonny Cepeda – Lo Que Mas Me Gusta De Ti
Aramis Camilo – La Varita
Bonny Cepera – La Fotografia
Tambo – El Pintalabio
Alex Bueno – Colegiala
Alex Bueno – Quiero Conocerte
Fernandito Villalona – Banana
Aramix Camilo – El Motor
Johnny Ventura – Patacon Pisao
Las Chicas del Can – T'a Pillao
Altamira Banda Show – Dime Lo Que Hacemos
Charlie Rodriguez – El Palacio
Fausto Rey – El Pajaro Herido
Download: MegaRengues Mix [16.85 MB]
And here's the short (radio) version:
Xavier Flix – MegaRengues Mix [Radio Version]
Format: 44.1KHz@16bit Stereo
Length: 6″24′ / 7.38MB
Includes:
Wilfrido Vargas – El Jardinero
Bonny Cepeda – Asesina
Alex Bueno – Quien Te Riza El Pelo
Jerry Vargas – Tus Ojos Mexicanos
El Zafiro – No Se Que Hacer
El Varon – Platano Maduro
Bonny Cepeda – Lo Que Mas Me Gusta De Ti
Aramis Camilo – La Varita
Tambo – El Pintalabio
Fernandito Villalona – Banana
Johnny Ventura – Patacon Pisao
Las Chicas del Can – T'a Pillao
Altamira Banda Show – Dime Lo Que Hacemos
Charlie Rodriguez – El Palacio
Fausto Rey – El Pajaro Herido
Download: MegaRengues Mix [Radio Version] [7.33 MB]